Regular price
0.00
Sale price
370.00
Unit price
per
Sale
Sold out
Your favorite spread just got better. Get yourself a tub of CREM Gelato's Double Peanut Butter and let your inner child free. 
It all starts with a light, velvety peanut butter base. The sweet, nutty, and nostalgic flavor is taken to a new level when made into our perfectly creamy gelato. Next are chunks of peanut butter cookie dough that run through the base, making every bite indulgent and incredibly gratifying. If that's not enough, hand roasted peanut bits are added to the mix for extra crunch and depth of flavor. Topping it all off is a dark chocolate stracciatella to create the ultimate chocolatey peanut butter experience. 

Double Peanut Butter needs to come with a sign that says "Warning: Incredibly Umptious!" Feeling like rewarding yourself? Add a scoop to your everyday treats to give it that extra 'oomph!' Have it with your breakfast waffle, your post-dinner cake, or even your favorite donut and take it from great to incredible. Go on — give yourself the boost you deserve and have some Double Peanut Butter today.

  • 12oz Paper Cup
  • With Peanut Butter Cookie Dough
  • Not Sweet
  • Roasted Peanut Bits for Extra Crunch and Flavor Depth
  • Made with French Cream
  • Quality Ingredients
FRESHNESS GUARANTEE
We guarantee that you will be satisfied with the freshness and quality of this product, and that it will be delivered to your home within any applicable use by, sell by, best by or expiration dates.
💬 Report Incorrect Product Information
View flavor description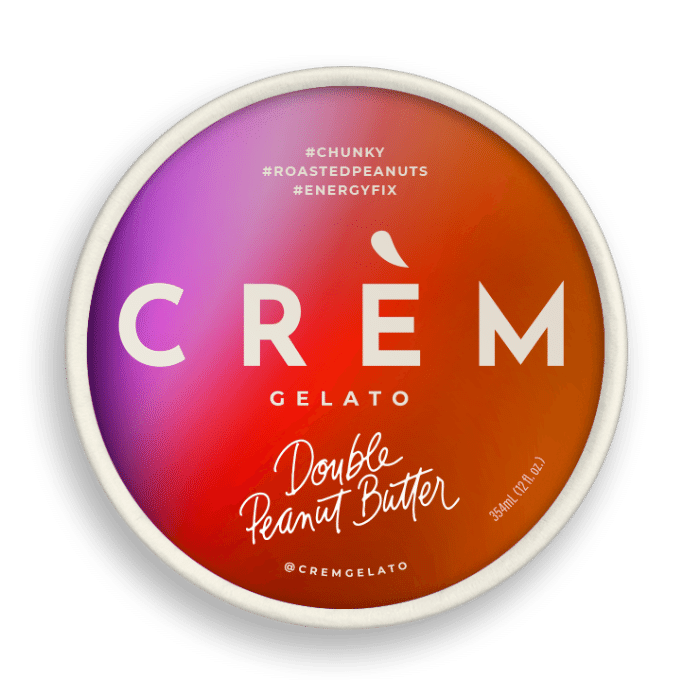 Quality gelato
I wanna start by saying this is good quality gelato and the owners take pride in what they produce. The down side is the cost and small containers. 500ml containers were a standard size when buying gelato or ice cream and Crem's 345ml containers are in my opinion a bit too pricey as it seems shrinkflation is the trajectory of so many companies. Again great quality but the small 345ml container for the price is too little for me to justify the cost.
Perfect for PB Lovers 💖
One of the best peanut butter goodies out there! The gelato itself is very well made but those bits of sweet salty peanuts and cookie dough definitely elevates it. It's a creative take on a classic flavor. Already ordered a new batch for my family, can't wait to try other flavors! 💖
mainstay flavour for sure! favourite of my le hubs.
top 2 next to my OG pistachio. if in the future you decide to go stevia on these golden flavour explosion babies would likely order on a weekly basis. loving the salty creamy peanutbuttery perfection masterfully crafted. heaven! also, cannot thank you enough for above and beyond service to your loyal customers. 🌟🌟🌟🌟🌟