Regular price
Sale price
370.00
Unit price
per
Sale
Sold out
Get your coffee and your dessert with a twist. Introducing: CREM Gelato's Silver Haze Cacao.
This playful flavor has a coffee base made from EDSA Beverage Design Group's "Silver Haze." This blend of arabica and robusta beans has notes of brown sugar and cacao nibs with mild acidity, bringing a familiar and comforting coffee experience. The twist? We've added a stracciatella-style crunchy chocolate drizzle adding sweetness, crunch, and a ton of character. The added texture helps the flavors become more distinct in your mouth as you experience every spoonful.
If you enjoy Frappuccinos or love having a sweet treat together with your cup of black coffee, Silver Haze Cacao is your perfect match in an irresistible tub of gelato. Have it on days when you need a quick pick-me-up for after meetings, or enjoy it with our Caramel Bronzato or Birthday Brownie for some awesome flavor pairings. Sophisticated yet easygoing, this gelato will have you coming back for more.
 

• 12oz Paper Cup




 

 

• 

Made With Real Arabica and Robusta Beans


 

 

• Not Sweet


 

 

• Familiar Coffee Notes


 

 

• 

Made with French Cream
 

 

• Quality Ingredients

FRESHNESS GUARANTEE
We guarantee that you will be satisfied with the freshness and quality of this product, and that it will be delivered to your home within any applicable use by, sell by, best by or expiration dates.
View flavor description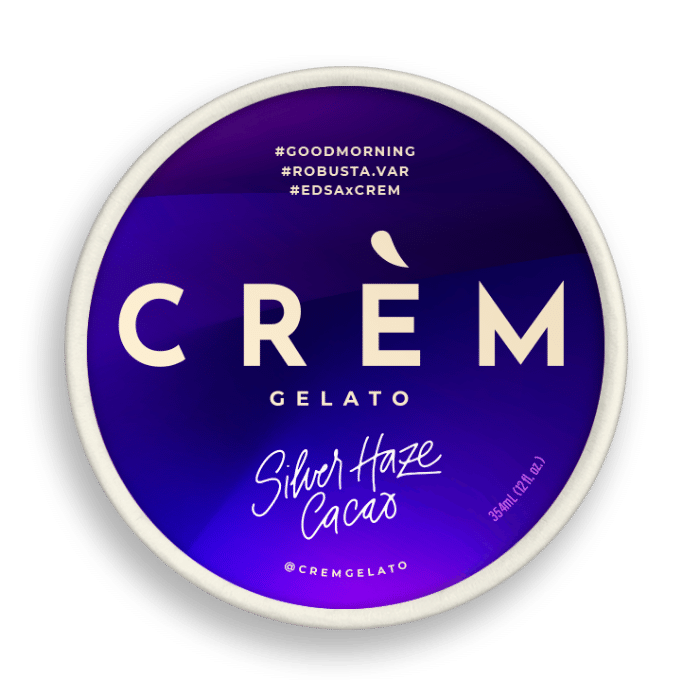 Silver Haze Cacao
It's not so sweet which is good. Everyone likes it
Amazing
As a coffee lover, this ice cream captures that perfect blend of coffee and chocolate. This is a must try for coffee lovers like me
A Coffee/ Chocolate lovers Dream
I loved this gelato. It was sufficiently sweet without being cloyingly so. It was the perfect balance of coffee and cacao in a texture of smooth, velvety cream. This has easily become a favorite and something I will order again and again.